Projectors are a relatively new type of headlight housing, first introduced in the 1980s. They consist of a set of lights inside a metal bowl, mirrored reflectors, a shutter, and a lens. Reflector are small padded mirrors that reflect the light forward from the bulb.

Light-emitting diodes (LEDs) have already overtaken compact fluorescent lamps to become the most popular type of interior lighting.

A shutter in the projector headlight is used to cut off the uneven beams so that the light is only directed onto the road and other drivers are not blinded. The lens, meanwhile, is rounded so that it intensifies the beam of light.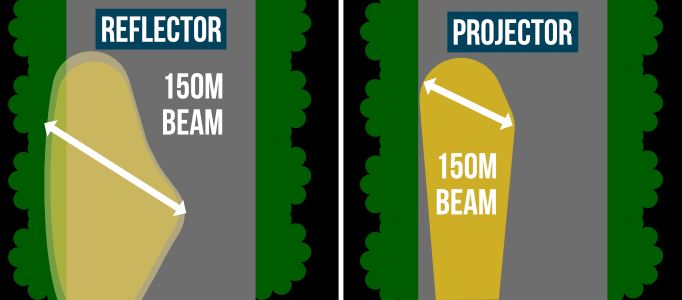 Unlike projectors, reflector headlights do not contain a shutter or specialized lens, which means that the beams they emit are wider, though less focused, and depending on the shape of your car's headlight they may need adjustment to avoid blinding others drivers.

Additionally, contrary to popular criticism, a larger LED chip or an LED bulb with a higher number of light emitting diodes will not make your bulb shine brighter, on the contrary, dispensing too much light into a projector bulb will cause the bulb to shine unevenly and not distribute light properly. To be efficient, an LED bulb must be designed with the same form factor as the original bulbs on your vehicle so that it targets correctly into the projector lens.

All our LED bulbs are designed to be compatible with both reflectors and projectors. In projector headlights we always recommend testing them at night before going out for a drive to see if they may need to be properly adjusted inside the headlight. Our LED bulbs have a rotating harness that allow you to set up the bulb either in a vertical or horizontal position.
The position of the bulb depends on how the headlight is designed on the inside. Both Diodes should be pointing straight forward on the reflective lenses inside the projector, so if you do not get a good beam pattern in one position, try the other one and you should see better results.

In ​​a refector headlight, any type of LED will produce a higher percentage of focus than factory Halogen bulbs, so a 18KLumen LED chip should be enough to produce more lighting at night.
In conclusion, they both should generate a proper amount of lightning at night provided they are equipped with a powerfull enough light bulb and they are properly positioned inside the headlight.

LEDs are a brighter, more efficient alternative to halogen and HID bulbs in vehicle headlights. Research indicates that in 2019 around 86% of cars used LED bulbs in their headlights, an increase of 31% from 2018.